You are currently browsing the category archive for the 'Uncategorized' category.
Starting with Monday's Post, How Does God Cheer for Us? you can find my blog at its new location, www.princesschrisy.com.
Be sure to check out the new blog location, sign up for e-mail reminders, and like Daughter of the King on Facebook to keep up with new posts on the blog!
See you there!!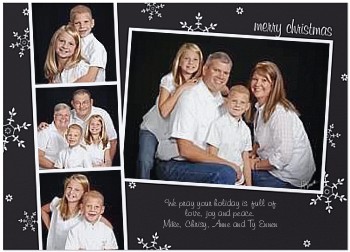 Snowflake Wishes Noir Holiday
Dear Friends,
Can it really be December of 2010? This year has just flown by. I remember mom telling me that the older you get the faster the years go, but I am not sure I believed her until this year.
Anne, who will be 10 in January and is in 4th grade this year, still loves to dance, play basketball, and just generally have fun. Her summer was spent at camp: Family Camp with Ty and I, church camp, and basketball camp. She had so much fun, but I was ready to have her back home. She is really starting to grow up and Mike and I are so proud of the young lady she is becoming. (She was the subject of this post, if you want to read about her.)
Ty and I spent some quality time together at Children's Hospital in May, when we discovered he had a serious infection in His knee. (You can read more about it here.) But thanks to some great doctors, surgeons, nurses and meds, within a few weeks, he was back up and going again.  He played baseball  this summer and flag football this fall. He was super excited to start first grade and to turn 7 years old. It hardly seems possible that he is that old already.
This year, I completed half marathons 3, 4, and 5 (the fifth one in Alabama Thanksgiving weekend with my family—including Mom and Dad—cheering me on); I renewed my love of theater by playing Renee in the female version of The Odd Couple; and I have begun blogging more regularly. I am still at the church—10 years this fall—and loving it and have also been doing some preaching at some little churches nearby.
Mike is now in year 7 at Carlisle Syntec. He is doing well and has filled his free time with kids, golf, hunting and fishing (as always). New this year was a boat that he and my dad bought so between working on it and fishing from it, he has been a happy guy. (Anne and Ty might be a little happy, too, since he did buy them a tube to use when we take the boat out sometimes.)
As I have looked through pictures and reflected on the last 11 months I am so grateful for our family, friends, and the time that we have had together this year, and I look forward to even more memories in 2011. We hope and pray that you have been blessed this year and those blessings will continue as the new year begins.
The Ennen Family
Mike, Chrisy, Anne and Ty
December 2009
Greetings and God's blessings from the Ennen family to you this Christmas season! We hope that the season finds you all healthy and happy!
As I look back over 2009, I remember being very busy, but I'm not sure I can tell you exactly what we've been busy doing as it has been so many things! We ended 2008 and started off 2009 in Alabama visiting Grammy and Papa Luttrell. The kids got to play in the sand on the beach at the Gulf of Mexico – their first time seeing a body of water that big! We did lots of fun things while down there including mini-golf, the USS Alabama, and even eating at Lambert's!
Spring brought some family fishing days and a trip to Iowa to visit a new neice/cousin, a trike-a-thon and preschool graduation for Ty, another dance recital, church musical and an appendectomy for Anne.
Camps (2 for Anne, 1 for Ty, and 1 for the family), t-ball and riding on two wheels (Ty), Cardinals and Grizzlies games, the zoo, and visits from Aunt Stephie, Aunt Joy and their families, as well as cousins Patrick and Kym, made for lots of fun times during the summer. Our sweet kitty, Pumpky, passed away in June, but thanks to a friend, Nala and Scuttle have moved in to our home to be our next pets. It has been great fun getting to know and love them.
Kindergarten was Ty's new destination on the first day of school, and Anne joined  ranks with the other third grade students. They are both loving school, and loving that they are there together. When it came time for the first quarter grades, Anne made the honor roll! (Third Grade is when they start getting actual letter grades.)  She was also chosen by her class as the student of the month for October – the character trait being emphasized was self-control. Ty has begun reading and it is really fun to watch him sounding out words everywhere he goes. I particularly like it when he reads books to me instead of asking me to read to him. It's hard to believe that Anne is almost 9 and Ty is 6. Time really does fly by when you are having fun.
Work at the church for me and at Carlisle Syntec for Mike has gone well this year. No major changes – just continued steadiness. Mike got his 5-year award in October, and I have now been at the church for 9 years. God is good and is teaching us much, and we are grateful to have our jobs in what has been a shaky economic climate.
As we bring this year to a close, we offer this prayer for each one of you (from Ephesians 1:15:-19):
For this reason, ever since I heard about your faith in the Lord Jesus and your love for all the saints, I have not stopped giving thanks for you, remembering you in my prayers. I keep asking that the God of our Lord Jesus Christ, the glorious Father, may give you the Spirit of wisdom and revelation, so that you may know him better. I pray also that the eyes of your heart may be enlightened in order that you may know the hope to which he has called you, the riches of his glorious inheritance in the saints, and his incomparably great power for us who believe.
May 2010 be a year in which your eyes are opened to see the hope that surrounds you each day.
Greetings and God's blessings to you this Christmas season. We trust that 2008 has been a good year for you. It has been for us if for no other reason than it was a pretty quiet year. Some of the highlights included:
Our first all-family trip to Six Flags where Anne was quite the coaster lover and Ty wasn't quite as sure but did it anyway.

Getting to spend lots of time with Grammy & Papa Luttrell, as well as Steph, Joy and their kids this summer. The cousins LOVED hanging out with one another.

A week-long vacation for Mike and I (Chrisy) with some friends which in turn meant a week-long spoil-fest for the kids with Uncle Derek, Grammy & Papa.

Family vacation weekend at Starved-Rock State Park with lots of hiking and beautiful scenery. Over three days we hiked for almost 15 hours. Not bad for two kids with short legs.
Anne has been quite the star this year. A tumbling recital and kid's musical in May, a dance recital in June, a solo at the Academic Foundation dinner in October (all the 2nd graders provided the entertainment), dancing at the nursing homes for Christmas, and a number of solos as well as a speaking line in the K-2 Christmas program at school. She loves being in dance, tumbling, kids choir, and 2nd grade. It's hard to believe that she'll be 8 years old in less than a month.
Ty is loving preschool and Sonrise (daycare). He is learning so much and is looking forward to Kindergarten next year. He does tumbling (but only because it is with sissy) and is active in every possible way. (What that means is we have lots of bumps, bruises and scratches all the time.) His 5-year-old humor keeps us laughing (or trying not to laugh) most of the time.
One of the biggest moments of the year was the completion of my practicum and Masters of Leadership and Ministry. I walked during graduation ceremonies in May and turned in my practicum paper in August before we left for vacation. I think Mike and the kids like having me around a little more now.  Another accomplishment for me this year was running and finishing my first half-marathon in May. It was hard, but really good. I'm still loving ministry at the church after 8 years and will be doing some new stuff in 2009.
Mike is now in year 5 at Carlisle Syntec. He is doing well and got a promotion this year. He has filled his free time with kids, golf, bowling, hunting and fishing (as always).
As we look toward 2009, we have hopes and dreams for our family and we pray that you will be richly blessed this season and in the coming year.